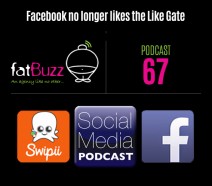 Play the podcast here:
Gordon White is joined by Kyle Murdoch, Graeme Geddes, Malcolm White, Kenny MacMillan and Cameron Wilson for some chat around recent issues in and around the world of social media.

We start with some discussion about the recent announcement from Facebook that they are dropping the Like Gate function later this year. The discussion also explores Facebook's recent experiment when they manipulated the news feeds of over 700,000 users, and the recent appearance of a Buy Button.



During the podcast we discuss the following:
Facebook Like Gate is to be dropped later this year …Read Article

Has Facebook become too commercial?

Facebook's manipulation of over 700,000 user's news feeds …Read Article
The changing habits of restaurant diners brought about by technology …Read Article
Swipii – The new loyalty App
Britons now spend more time on tech devices than they do sleeping …Read Article

Apple appoint a Director of Social Media

Can Bebo really make a comeback?

Robin Thicke's Twitter fail …Read Article

Should employees get a smartphone break

Selfies – some revealing statistics

The social media responses to the referendum debate in Scotland …View Twitter Heat Map

Facebook introduces a Buy Button

LinkedIn introduce header images for unpaid accounts – or do they?

LinkedIn Pulse now open to everyone for publishing …View Pulse Post
Play the podcast here:
Would you like a presentation on social media and customer service?
We're offering a range of bespoke or generic presentations on the topic of social media and customer service, if you would like to find out more please go to the following link: Are you prepared to lose control?
Have you listened to the digital copyright podcast?
We continue to see people using images, video content and other files taken from the internet without consideration to potential copyright issues. We would encourage all of our listeners to download Social Media Podcast 50 which clearly outlines what you should and shouldn't do with images sourced online. Find it on iTunes now.

WHAT WOULD YOU LIKE US TO TALK ABOUT?
If there is a specific topic you would like us to cover in a future podcast please let us know. You can email gordon@fatbuzz.com or send us a message on Twitter @MediaPodcast or, you can post it as a comment on the Social Media Podcast Facebook page.