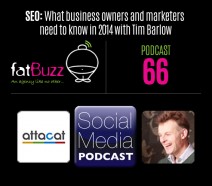 Play the podcast here:
Social Media Podcast Edition No.66 provides a valuable insight to SEO in 2014.  Moreover, it highlights the need to optimise your business if you want to limit the cost of SEO and be truly successful.

Gordon White is joined by Tim Barlow, Managing Director at Attacat who provides some great advice and a refreshing approach to SEO by demonstrating how they look beyond the web site to deliver value to businesses so that SEO is the outcome rather than a strategy or tactic.

Tim recently presented this topic at our New Media Breakfasts in Glasgow and Edinburgh, and because it was so well received, he kindly agreed to extend the reach of his presentation to the Social Media Podcast listeners.  We are sure you will find it both interesting and enlightening.

During the podcast we discuss the following:
Why Tim believes SEO is an outcome rather than a strategy or tactic

Why some sites just 'can't' be optimised

The difficulties some businesses have in communicating their unique value proposition

The latest on Linking, and what are good and bad links

Spam in blog comments

The need to fully understand what people are looking for

The most effective methods of identifying relevant keywords

Why paid search should be a consideration in 2014

Iain Wilson, Blot Design asks if the cost of effective SEO is beyond the reach of many small businesses

How you can reduce the cost of your SEO

The mistakes people make when using Google Adwords
During the podcast, Tim mentions a couple of books that he recommends, these were: 

Age of Context by Robert Scoble and Shel Israel
The Circle by Dave Egger

Play the podcast here:


More about Tim
Tim Barlow is the managing director of Attacat, the Edinburgh-based search engine and internet marketing firm. Tim has been involved in search engine promotion since 1999 when he managed the first Innogy website for National Power. In 2001, Tim launched Pastures-New, one of the UK's leading rental portals, gaining similar levels of traffic with a marketing budget of £100 a month as Rightmove were then achieving with a multi million pound TV campaign. Attacat was set up in 1994 to take advantage of Tim's knowledge.
Pay per click (such as Google AdWords) has been a long time specialism of Tim and Attacat. Indeed Tim was one of the very first Qualified Google Advertising Professionals in the world and Attacat has held the company version of the qualification since its inception. Attacat use pay per click (PPC) to drive £10s of millions of business for a variety of clients from classic e-commerce sites to B2B businesses in niches you probably never knew existed.
Would you like a presentation on social media and customer service?
We're offering a range of bespoke or generic presentations on the topic of social media and customer service, if you would like to find out more please go to the following link: Are you prepared to lose control?
Have you listened to the digital copyright podcast?
We continue to see people using images, video content and other files taken from the internet without consideration to potential copyright issues. We would encourage all of our listeners to download Social Media Podcast 50 which clearly outlines what you should and shouldn't do with images sourced online. Find it on iTunes now.

WHAT WOULD YOU LIKE US TO TALK ABOUT?
If there is a specific topic you would like us to cover in a future podcast please let us know. You can email gordon@fatbuzz.com or send us a message on Twitter @MediaPodcast or, you can post it as a comment on the Social Media Podcast Facebook page.