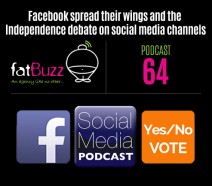 Play the podcast here:
In Social Media Podcast Edition No.64 the fatBuzz team are back for some chat and light hearted banter around the world of social media.  This time round we have  Gordon White, Malcolm White, Graeme Geddes, Cameron Wilson and the latest recruit to the company, Kenny MacMillan. 

It's kenny's first ever podcast so we have to forgive him lifting and laying his glasses so often during the recording!

Once again, Meilee Anderson has some useful contributions from America and we are grateful to her for keeping us informed about what's happening in the USA.

Once again there's a fair bit about Facebook but we manage to cover lots of other interesting topics too.  We even dip or toe into the Scottish Independence debate and come out without any fall outs – something we haven't really witnessed on social media channels!


We do refer to the Rolodex in the podcast and we promised to show what this is in the blog, especially for the younger listeners may not ever have seen one!  Listen to the podcast to find out where it fits in the conversation.
Visit Rolodex web site here.

Amongst other things we discuss the following:
The recent revival of print media
New layout for Business Pages on Facebook – visit the 29 Glasow Facebook Page
Cutting Products & Services pages on LinkedIn
The continuing problems with the reach on Facebook Read Mashable post
Facebook to fragment its functionality on mobile – Read article
Girl cost her parents $80,000 over Facebook post! – Read Article
The Voice USA – How the hit TV show is using Twitter on screen during the show

NYPD come off badly on Twitter with #MyNYPD

The apparent revival of podcast – Why?

QR Codes – Are the dead?

Why LinkedIn is not a Rolodex

The Independence debate on social media channels

What part did social media play in the Commonwealth Games Opening Ceremony controversy

Two US airlines experience mixed fortunes on Twitter in the same week
We hope you enjoy the podcast, please also share it with your friends and colleagues, you can do so using the share buttons at the top of bottom of this post.

Play the podcast here:
Would you like a presentation on social media and customer service?
We're offering a range of bespoke or generic presentations on the topic of social media and customer service, if you would like to find out more please go to the following link: Are you prepared to lose control?
Have you listened to the digital copyright podcast?
We continue to see people using images, video content and other files taken from the internet without consideration to potential copyright issues. We would encourage all of our listeners to download Social Media Podcast 50 which clearly outlines what you should and shouldn't do with images sourced online. Find it on iTunes now.

WHAT WOULD YOU LIKE US TO TALK ABOUT?
If there is a specific topic you would like us to cover in a future podcast please let us know. You can email gordon@fatbuzz.com or send us a message on Twitter @MediaPodcast or, you can post it as a comment on the Social Media Podcast Facebook page.


If you have found this post interesting please share it with your on-line community using either the Twitter, Facebook and Share buttons below. Thank You.