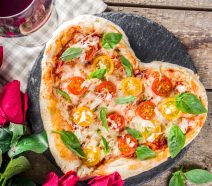 …with your job that is.
Today's blog is brought to you by our training manager Caitlin who will explain how to love your job by building better networks (and using a lot of pop culture references).
It's the month of love after all – so why not experience that in every aspect of life? Didn't I make that sound easy?
Well, that depends on how you define love.
For example, the love I feel for the Domino's delivery man – probably not real, but it sure does feel that way when I open the door to his face and my favourite order – quite aptly named Pepperoni Passion.
So, when I say fall in love with your job, yes it may sound dramatic (nothing at all like my love for pizza). However, in the grand scheme of things, in a world where not a lot else is going on, why shouldn't we love what we do and enjoy each new working day?
Sure, each day comes with its own obstacles and challenges but that doesn't mean you can't love what you do. And through the power of timeless love songs, I'll show you how:
Let's Stay Together – Build and Nurture Relationships
The relationship you have with your job is often a result of the relationships you experience within your job.
Do you support each other? Are your relationships strictly with your colleagues or do you find yourself enjoying a great working relationship with clients? Do your contacts/extended network support you in your role?
In a world where everything is virtual, we need to make the most of the leading professional network, that of course is LinkedIn. Here, we can build relationships and nurture them in so many ways.
However, it is imperative that your LinkedIn connections are relevant, and you must also make the effort to engage with them.
A few ways you can do this:
Creating your own content – posts, articles etc
Sharing and liking others' content
Posting in LinkedIn Groups
Writing referrals/testimonials
A good network brings you some of the most crucial things we would expect from the important relationships in our lives:
Support when you need it most – a product launch, a new campaign, or a new partnership for example
Recommendations/referrals – when you're the right person for the job/task, those around you should be recommending you and shouting about it and vice versa
Praise/testimonials – when you've helped someone, provided a solution, or have an ongoing relationship when you support each other, you should both be willing to talk about that success and share it with others
Celebrating wins – whether it be your colleagues, clients or simply someone in your network, sharing their successes and congratulating them will go a long way and don't be surprised when they return the favour
Collaboration – when your network is relevant, the possibilities for working together are much more apparent and in reach – be sure to connect with likeminded people who add value to your network as you do theirs
Love Yourself – Self-development is Key
Yes, I said timeless love songs then referenced a Justin Bieber song. I can only apologise.
However, the sentiment is still there.
Of all the things good connections and relationships can offer you, you also need to make time for yourself. When we're talking LinkedIn, we mean profile optimisation and how you make the most of this platform when showcasing your skills and all you have to offer those around you.
You want to consider things like your About section, your job role descriptions, LinkedIn articles and so on. Everything down to your profile photo and headline will be important and while no one can swipe left on your LinkedIn profile, it's worth spending the time optimising this page and that may take a few tries.
I'd suggest drafting your About section a couple of times beforehand and there are also tools to assess the suitability of your profile photo – who knew LinkedIn was so picky?!
Remember to check your SSI (Social Selling Index) regularly to monitor your performance on LinkedIn and identify areas which need improvement.
Never Too Much – Knowledge That Is
You can never stop learning and that is no exaggeration – because whether you face it or not, your job, company or industry is constantly changing.
Much like a 30-year-old marriage is nothing like a first date, nothing ever stays the same for long. But there's plenty of happily married couples of 30 years who will tell you change is not always bad, so don't be afraid of it.
So how do we continue to evolve?
Learn from those around you – your colleagues are there to support you, work with you and motivate you so take the opportunity to learn from each other wherever possible
Training – it's more accessible than ever and you'd be surprised how enjoyable a training course on Zoom can be – learning from the comfort of your own home and taking in the knowledge without distraction
Dedicating time – allow yourself time to train and learn, dedicate an hour or so a week and commit to it
Out of Reach
Sometimes, no matter how hard we try, our content doesn't always just land in front of our target audience and if I learnt anything from 80s rom coms, you can't just sit back and wait for love, you gotta put yourself out there and go for what you want.
Of course, I mean LinkedIn Advertising. LinkedIn has an incredible platform which is easy to use and helps you get around that targeting obstacle, with many options available to reach your desired audience, with everything from InMail to Sponsored Content and Lead Generation Ads.
So, use that platform as your metaphorical boombox and hold it high above your head.
Your first, your last, your everything – remember why you are there
Don't be fooled by the theme of this article, LinkedIn is NOT a dating site, nor is it a social network and while some exceptions may apply to more personal posts, it is primarily a professional platform so don't forget why you are there.
Shout about yourself, your colleagues, your employees, your business, your clients and your network with every post, article, like, share and so on.
Make use of Company, Showcase and Affiliated pages as well as your own profile and use these to share your content, build your network and find relevant connections that open the door to endless opportunities.
Now I cannot and I repeat, cannot help you with finding real love but I can help you with all things LinkedIn.
If you're interested in attending one of our training courses, please do get in touch. We also offer bespoke courses for organisations so if you're looking for something the entire team can get involved in, we can organise that too!
Our next session is on Thursday 18th February – book your place here: https://fatbuzz.com/class/making-the-most-of-linkedin-linkedin-training-zoom-sessions-18-02-21/