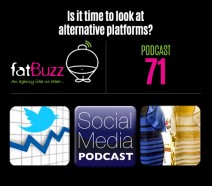 In Social Media Podcast 71, Gordon White is back and is alongside two of the fatBuzz account managers, Liam Cutkelvin and Cameron Wilson, for more discussion around the latest news and topics in social media.
In this extended episode we discuss if small businesses should use alternative social media sites and apps to promote themselves online, or should they accept that current platforms are the best way forward?
Once again we go through the latest and most intriguing news that is happening within the world of social media including Twitter analytics, how Facebook are changing the way likes are counted on pages, and we share our thoughts on the the latest viral sensation…the dress!
We also have an interview with Tim Barlow from Attacat following the New Media Breakfast earlier this month, he talks with us about utility marketing.
Here are the main topics and links relating to them from this episode:
If you would like to share your thoughts on any of the topics, suggest a topic, or be featured on an upcoming podcast, please get in touch at hello@fatbuzz.com with the topic "Social media podcast". For more updates follow us on Twitter @fatbuzz
Find out more about Scott Stratten's book, UnMarketing Here…
Find out more about Mitch Joel's book, Ctrl Alt Delete Here…
You can also reach those on the podcast from the fatBuzz team at:
Gordon – gordon@fatbuzz.com – Twitter @gordonwhite
Cameron – cameron@fatbuzz.com – Twitter @wildsunn
Liam – liam@fatbuzz.com.com – Twitter @carmylite
For Tim Barlow, you can also reach him on Twitter @timbarlow and email tim@attacat.co.uk
Play the podcast here: