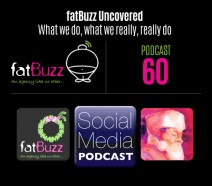 I started the first podcast of this year (No.50) promising to publish more podcast content in 2013 – I have failed to deliver my promise.  
Once again, pressure of work and our commitment to our clients has restricted the amount of
podcasts
we have been able to produce.

In fact, this podcast started as a compromise but it has worked out remarkably well, I think it's a great insight into the workings of fatBuzz.  

Here we are on the 23rd December and everyone was too busy to stop for an hour to record a podcast so I decided to take the podcast to them.  I toured the office, a bit like Martin Brundle in the pit lane before a race and I spoke to every member of staff (those not on holiday) and I think the result is probably more interesting than any Grand Prix race this year.

2013 has been a momentous year for everyone in the office and this was a great opportunity to find out what each and every one of them do on a day-to-day basis.  Along the way I also managed to quiz the various team members about the particular challenges, likes and highlights of their year at fatBuzz.

It really is a most revealing insight into what we do for our clients every day of the year.

I also manage to cover a few social media and web development topics with the guys as I chat my way across the astroturf – yes, our office is completely covered in astroturf and even has fun things like golf chipping nets for clients to take our 'find the net' challenge!

It's not all social media and web design, I catch up with Brian, he heads up our accounts department and has had a busy year introducing new processes and procedures – none more taxing than the implementation of a new time sheet regime!!!

Here are some of the general topics we discuss in addition to the revealing chat about the daily goings-on at fatBuzz:
Design for Print and why its been much busier this year than in recent years

The emphasis on data driven social media and web development

Podcasting and the reasons for its revival during 2013 

Content plans – Why they are critical to what we do?

Face-to-face meetings – Why they are critical to what we do?

Facebook challenges – Why is the reach diminishing almost daily?

Facebook competitions

Facebook Stats – Are they really accurate?

Responsive and Flat Design web sites

Responsive Design HTML Email – Why do they continue to be a problem?
We hope you enjoy the podcast, if you have any comments to make or topics you would like us to discuss, please leave them here on the blog or on our Facebook Page.

Play the podcast here:


Would you like a presentation on social media and customer service?
We're offering a range of bespoke or generic presentations on the topic of social media and customer service, if you would like to find out more please go to the following link: Are you prepared to lose control?
Have you listened to the digital copyright podcast?
We continue to see people using images, video content and other files taken from the internet without consideration to potential copyright issues. We would encourage all of our listeners to download Social Media Podcast 50 which clearly outlines what you should and shouldn't do with images sourced online. Find it on iTunes now.

WHAT WOULD YOU LIKE US TO TALK ABOUT?
If there is a specific topic you would like us to cover in a future podcast please let us know. You can email gordon@fatbuzz.com or send us a message on Twitter @MediaPodcast or, you can post it as a comment on the Social Media Podcast Facebook page.


If you have found this post interesting please share it with your on-line community using either the Twitter, Facebook and Share buttons below. Thank You.